Grace Brown of Geelong, Australia officially signed her NJCAA National Letter of Intent to play basketball for the Lady Buccaneers of Dawson Community College.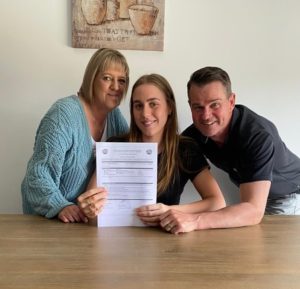 Brown, a 5'9 wing player, will graduate from Surf Coast Secondary College this November and will enroll at DCC for the spring semester.  The Covid pandemic caused the NJCAA to move most of its sports scheduling to be played during the spring, so Grace will immediately be eligible to play in January.
Her experience comes from playing in the Youth League for the Division 1 Geelong Supercats team.  There she averaged 10 points, 3.5 rebounds, and 2.5 steals.  Brown was also part of the Development Squad for State in the U18's division, as well as a Development player for the NBL1 women's team in 2019.  In 2019, she was presented the youth league's team Coaches Award.  Her leadership skills allowed her to be chosen as Vice Captain for her youth league team in 2020.
Grace on becoming a Lady Buccaneer, "The reason I chose Dawson was because of how family and community based it is and super excited for it to be my home away from home. I believe that this will be the best way to start my college career both on and off the floor and that Coach Romeo is the best coach to help me do that and grow into a better player and person."
DCC Coach Romeo Lagmay, Jr. on his new signee, "This was a great signing for Dawson.  Grace will be adding depth to our wing position.  She is super athletic and possesses good basketball IQ.  Her style and ours will be a great fit and benefit both sides, and she should have an immediate impact.  We can't wait for her arrival in January, and get her going as soon as possible."