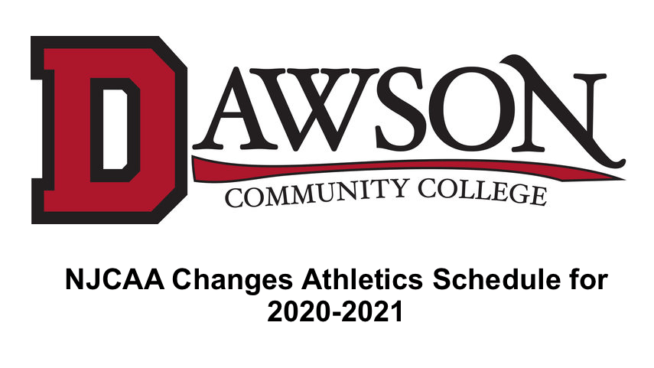 The COVID-19 Pandemic has altered the National Junior College Athletic Association (NJCAA) athletic seasons.  In a major announcement Monday, the NJCAA shared its plan to give athletic seasons a better chance of success in the coming school year.
NJCAA President & CEO, Dr. Christopher Parker, said in a recent press release, "Our greatest focus is and always has been providing the best opportunities for our student-athletes. Through a unified effort from our Presidential Advisory Council, the Board of Regents, and leadership staff, our most recent plan of action provides a path that keeps our student-athletes competing at the highest level with proper safety measures in place. As we move forward as an association, we will continue to provide opportunities for our student-athletes, coaches, and all those involved with the NJCAA to be safe and successful." (For the full press release from the NJCAA, go to:
https://www.njcaa.org/general/2019-20/releases/20200713l9o7t8
)
For most sports, the NJCAA is going to allow fall practices and scrimmages, but push the regular season back to the beginning of 2021.  Cross-country and Tennis are the only NJCAA sports that will have a regular season and national championship in the fall.  Other sports such as football, volleyball and basketball will use the fall to prepare for their season and will begin competing in January, 2021.
At Dawson Community College, that means there won't be regular season volleyball or basketball games in the fall and early winter like there normally is.  Volleyball will begin their season on January 22 and it will run through March 20 with their game schedule being cut down to 20 dates.  The basketball season has been reduced from 30 regular season games to 22 and will run from January 29 through March 27.  These teams will still be able to have 60 days of practice in the fall and 5 scrimmage dates against outside competition.  There are minor changes to baseball and softball, but they will stick with practices and scrimmages in the fall and then their regular season in the spring as usual.
Rodeo is still planning to have their normal fall and spring seasons. Dawson's newest program, esport, shouldn't be affected by the pandemic.
DCC Athletic Director Joe Peterson shared his perspective, "It's nice to have a decision and know the way forward now.  Pushing the seasons back will give more time to improve COVID testing turnaround times and hopefully find medications or a vaccine.  The extra time will also give our teams the opportunity to train and prepare for our seasons better.  I'm thankful they will allow us to play scrimmages because we can treat those like regular games and will let the athletes see how they stack up against other teams.  The major issue I foresee us dealing with are transportation issues in the spring when all of the sports are competing at the same time. I think most people want sports back as soon as possible, but junior college sports will have to wait a few extra months."