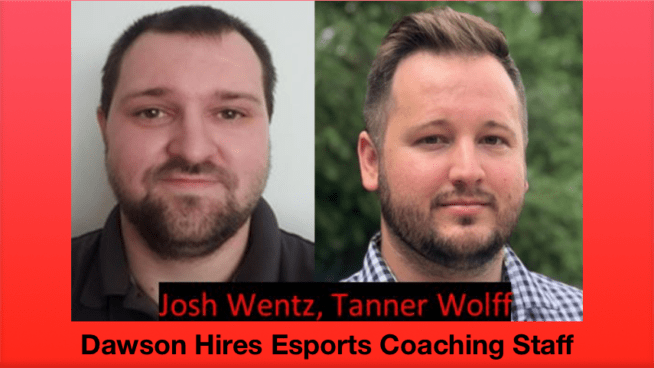 Dawson Community College is all set to go with their new esports program for the 2020-2021 school year. Dawson recently hired Josh Wentz and Tanner Wolff as the first coaches.
Josh Wentz is a Glendive native with an extensive background in Esports and over 15 years of competitive gaming experience under his belt. He started taking gaming seriously on Starcraft Brood War and Battlefield. Since then, he has achieved results in a variety of games including World of Warcraft, Starcraft 2, Hearthstone, and many others including most recently playing in the Magic the Gathering Mythic Invitational Qualifiers in 2019 and 2020. He has been involved with building competitive teams and helping lead them to success. He has proven to be consistent on many games over the years. Josh attended school in Glendive and started completing computer and network certifications. He enjoys spending his free time with his family, playing or watching sports, and video gaming.
Tanner Wolff is originally from Billings, MT and recently moved to Glendive. Tanner has been involved with both traditional sports and electronic gaming throughout his life, and also played collegiate soccer at Rocky Mountain College. Tanner is a certified Full Stack Web Developer, has built a number of his own PCs, worked in graphic and web design, and has been streaming on Twitch in his free time over the last three years. Tanner believes that esports and gaming can have a positive impact on individuals and on the community of Glendive.
The DCC esports team will compete in games like Rocket League, Overwatch, Magic the Gathering, CS: GO and many more. The two new coaches are busy getting the program in place and recruiting students to be a part of the inaugural season at DCC.