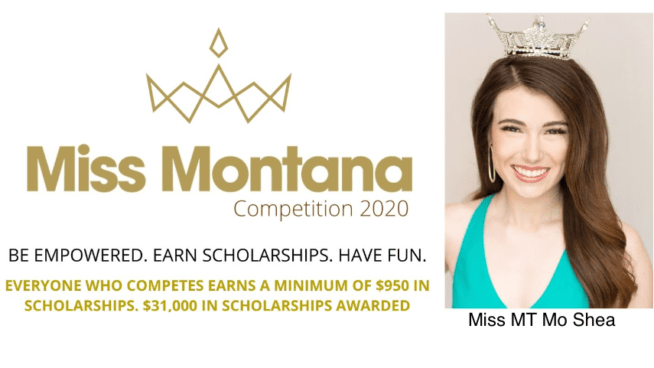 GLENDIVE –The show must go on but it has to be done safely so the Miss Montana and Miss Montana's Outstanding Teen Competition has been moved from June 18-20 to July 23-25 in Glendive at the DCHS auditorium.
The candidates will arrive in Glendive July 19 for a week of rehearsals, parade and community activities before the preliminaries Thursday, July 23.  The crowning of Miss Montana's Outstanding Teen  is Friday night and the judges choose  Miss Montana and her royal court Saturday evening for the 16 year that it will be held in DCHS 1000-seat auditorium in Glendive.
Over $31,000 in cash scholarships and many applied scholarships will be awarded to these empowered young women.  Each of the 13 Miss MT candidates is guaranteed at least a $950 scholarship and the 11 teen contestants $300.  Scholarships are awarded  for best talent, interview, most photogenic, spirit and leadership, evening gown, congeniality in addition to winners and four runners-up.
The Miss candidates compete in talent, interview, onstage question and evening gown and the teens also compete in fitness.  Miss Montana wins at least $5100, numerous gifts, travel and wardrobe for Miss America.
Miss Montana serves as Montana's ambassador for the coming year and offers a crown to classroom school tour.  This year Miss Montana Mo Shea, a UM graduate in cellular neuroscience plans to use her scholarships toward medical school to become a dermatologist. She has spoken to schools on "love the skin you're in" skin cancer awareness in person and virtually.
Miss America Camille Schrier has virtually adapted her year with the quarantine and social distancing, giving many virtual science presentations which can be found on YouTube.  To book her virtually for school, contact Ashlie@missamerica.org
Miss Montana 2020 and Montana's Outstanding Teen will advance to compete during the week of Miss America's 100th anniversary later this year.  For more information check www.missmontana.com, Facebook Miss Montana Scholarship Program or missamerica.org.
Miss MT Mo Shea
Miss Montana Scholarship Program – Like us on facebook
Miss Montana's Outstanding Teen
Box 504
Glendive, MT 59330
406-939-7422