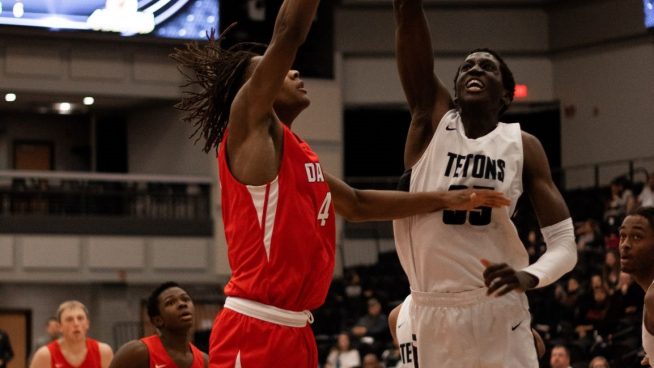 The DCC Buccaneer men's basketball team picked up another big road win on Thursday night, downing Williston State College 88-77. The win moves the Bucs to 5-0 in conference with a showdown looming with 4-1 Miles Community College on Sunday afternoon in Miles City. It was a back and forth affair with 7 ties and 17 lead changes in the game. Dawson finally broke away mid-way through the 2nd half with a 17-2 run to take a fifteen point lead, but Eden Holt brought the Tetons back with three straight from long range. The Bucs finished the game out by hitting free throws down the stretch to seal the 11 point win.
Coach Joe Peterson shared his relief, "We stayed tough tonight when we didn't play our best game. Our guys kept competing and our pressure and depth gave us the spurt we needed halfway through the second half. It started with our defense and controlling the boards which led to offense. Williston is really talented and played a great game tonight. We are fortunate to escape with the win."
In the first twenty minutes, neither team had a lead of more than four points. It was evenly played with both teams turning it over seven times, shooting percentages in the 40's and the rebounding dead locked. The second half was even except for the big run mid-way through by Dawson, and then Williston's comeback before the Bucs closed it out at the end.
Williston shot a higher percentage in the game from the 3-point line than they did from the free throw line. They connected on 55% from the 3-point line, boosted by Holt's hot shooting. They only shot 12-23 from the free throw line (52%). Dawson forced 18 turnovers and scored 26 points off those turnovers and also outscored Williston in the paint 38-22. The biggest difference in the game was bench-scoring where Dawson had a 47-7 advantage.
CJ Nelson led the visitors with 22 points and 8 rebounds. Kell Schwers scored 12 points on a perfect night from the field and the line. Man Man Baker finished with 11 points, 7 rebounds and 4 assists. Camron Dunfee and Beau Santistevan also had 11 and Santistevan grabbed 8 rebounds. Kolten Hitt was the 6th player for Dawson in double figures with 10 points. Eden Holt had a game high 27 points for Williston and went 6-9 from the 3-point line. Johnathan Komagum had a double-double with 17 points and 11 rebounds.
Dawson will play at Miles Community College on Sunday afternoon at 3:00 pm.