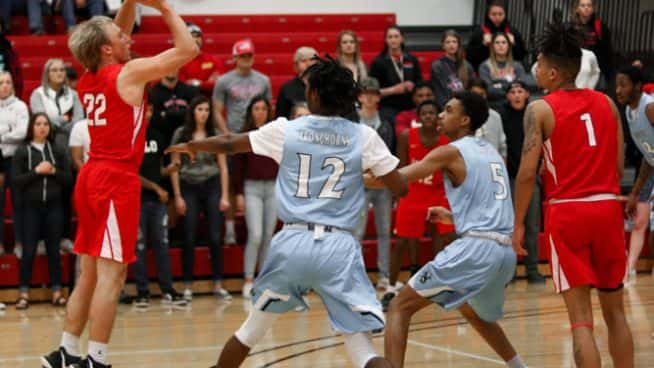 Last Friday night in Gillette, Wyoming, Dawson had a 15 point lead in the second half, but couldn't hang on, losing by 2 points to the undefeated Pronghorns.  On Saturday in Glendive, Montana, the Bucs found themselves in a similar situation.  This time, with eleven minutes remaining, it was a 16 point lead after Camron Dunfee scored on three straight possessions.  Once again Gillette came storming back with a 20-6 run.  Jayden Coke made three free throws after being fouled on a 3-pointer and Tariq Eisa nailed a tough shot from long range to cap the run and put Gillette within two points of the home team.  CJ Nelson made a free throw for Dawson and Charles Lampten got a powerful dunk on an assist from Dunfee to put Dawson back up by five.  Man Man Baker made four free throws and CJ Nelson made two in the final minute to ice the win for Dawson 80-72.
The early part of the game was dominated by Gillette.  The Pronghorns were up 12-2 in the opening three minutes as Bradley Akhile made a couple of trifectas and Mason Archambault connected on another from long range.  Jaron Masis responded back inside and Kolten Hitt from the outside to bring Dawson back into it.  Beau Santistevan came off the bench to score a quick five points and CJ Nelson hit a 3-pointer to tie the game at 15. Dawson went on a 21-6 run after that to take a 15 point lead with five minutes left in the half.  Charles Lampten scored inside and Roulervee Vann stole the ensuing inbounds pass and laid it in to give Dawson its biggest lead of the first half 36-21. Gillette never got the deficit back to single digits in the final five minutes of the half and went into the locker room down 44-32.  The Bucs forced 14 turnovers and held Gillette to 41% from the field and 33% from 3-point range.  On offense, Dawson shot higher from the 3-point line then they did from the field (43% to 42%).  No player from either team reached double figures in the first half.
Gillette's shooting picked up in the second half, connecting on 54% from the field and 60% from the 3-point line, but it wasn't enough to make up for their turnovers and Dawson's good shooting from the free throw line.  Dawson's bench outscored Gillette 39-13 for the game.  Dunfee ended the game with 14 points to lead six Bucs in double figures.  Kolten Hitt, Vann, Baker, Nelson and Santistevan were the others to reach double digits. Tariq Eisa led all players with 16 points for Gillette.  The loss drops Gillette to 8-1 on the season and Dawson improves to 7-2.
Dawson Coach Joe Peterson praised the team effort, "I thought our guys competed really well tonight and played great team basketball.  Gillette is long, athletic and skilled, but we improved a lot over the past week since we lost to them down there.  We were much more solid on the boards and handled the ball much better.  Cam came up big in the 2nd half when we really needed him to.  He has that ability to take over games when he decides to and we have to do a better job of putting him in situations like that. I'm proud of how hard our guys play and the belief they have in each other!"
The Bucs close out their weekend with one more game on Sunday afternoon at 4:00 pm vs. Jamestown College JV.