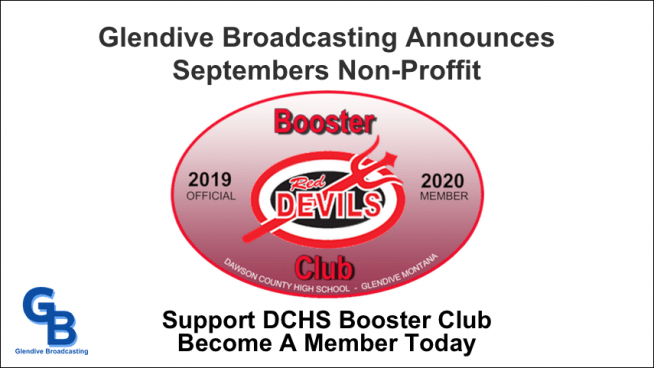 Once again Glendive Broadcasting is promoting and supporting a Glendive Non-Profit. This month Glendive Broadcasting will focus all of its resources to make the public aware of the importance of the Dawson County High School Booster Club.
Utilizing television, radio and social media platforms Glendive Broadcasting will highlight the activities and programs that are made possible by the DCHS Booster Club. 
The importance of the DCHS Booster Club can not be understated. Since the beginning of the booster club, student athletes have benefited in many ways thanks to the booster clubs efforts. In addition to supporting the athletic endeavors of the high school, the booster club also provides resources and support for other high school clubs and activities.
Keep watching and listening to Glendive Broadcasting as we help to make a difference in our community. You can help too! By becoming a member of the booster club you will be showing your support for Dawson County High School programs.
Membership Fees:  Annual Membership $20.00
Business Membership $35.00