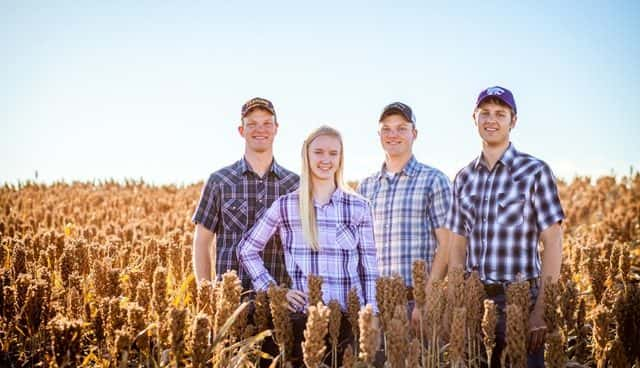 Peterson Farm Bros. coming to Terry, Sept. 24
Evelyn Cameron Heritage, Inc. celebrates ag in Eastern Montana
(TERRY, MT) – The Peterson Farm Brothers are coming to Terry, Mont., on Tuesday, Sept. 24, courtesy of Evelyn Cameron Heritage Inc. The entertaining group of siblings includes Greg, Nathan, Kendall, and honorary "bro" Laura Peterson, who farm together with their parents near Assaria, Kan. The Peterson brothers garnered instant fame in 2012 with their parody "I'm Farming and I Grow It" on YouTube. Since then they have continued to produce entertaining parodies of hit songs, remade to showcase their working agricultural life, as well as tour the country putting on performances and advocating for agriculture.
"Ever since we began producing content, we have continued to realize a need to inform people about what we do in farming and in agriculture as a whole," says Greg Peterson. "There are many misconceptions about modern day farmers and we feel it is our calling to help correct some of those misconceptions."
Glenda Ueland, chairman of Evelyn Cameron Heritage Inc. says their organization is hosting the event to celebrate agriculture and the hard work and lifestyle of those who live it in Eastern Montana. "So much of what makes Eastern Montana beautiful and unique is because of our strong base of farmers and ranchers," Ueland says. "We want to honor these folks who work hard every day – in tough conditions and tough markets – with very little thanks. Our landscapes and way of life around here are in many ways similar to how they were in Evelyn Cameron's time. We might have bigger tools, but the work is still the same."
Evelyn Cameron Heritage Inc. promotes cultural and economic development events in Terry through the work of the noted frontier photographer. The organization owns more than 900 original Cameron photographs; the largest known private collection of her work. They are headquartered in the exquisitely restored Rialto Theatre in Terry.
The Peterson Farm Bros. will be performing at 7 p.m. on the night of Sept. 24 at the Terry High School. Tickets are $15 and are available through Eventbrite. Advanced ticket holders are welcome to attend a meet-and-greet with the Peterson family from 4-5 p.m. at the Evelyn Cameron Heritage Inc. building at 212 Laundre Ave. Doors to the performance at the high school will open at 6 p.m. Seating is on a first-come, first-served basis. Children 5-years-old and under get in free. Concessions will be available at the event. Sponsors of the event include TC Energy, First Interstate Bank, Stockman Bank, Farmers Union Oil Co., US Bank and the Montana Department of Commerce. For more information find Evelyn Cameron Heritage Inc. on Facebook or call 406.635.4966.