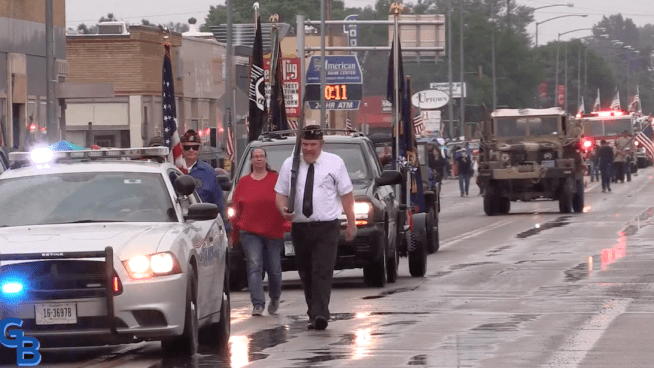 Rain and cool weather didn't dampen the spirits of Glendive's Annual 4th of July Parade participants. The parade was welcomed by a large crowd of enthusiastic adults and children lined up along Merrill avenue. Many parade goers hoisted umbrellas and braved the steady downpour as they cheered for the cars, floats and other marchers including horses and motorcycles.
The Glendive Jaycees made the best of the weather and should be complimented for the success of the parade as measured in the amount of those participating and the size of the crowd. As always the fire engines and first responders made the loudest sounds as they carried the American flag on the trucks and ambulances. 
Glendive Broadcasting provided an hour long commercial free segment of throw back 80's music on KXGN 1400am for those at the parade and elsewhere. Children were seen rushing for candy as many of the floats tossed the sweets toward the curb. 
As the parade progressed the weather lightened up and the rain subsided. It was unusual to see so many dressed in spring attire, jackets and sweaters as they enjoyed the parade. By the time the last of the parade participants moved by you could see most everyone removing the jackets and sweaters as everyone headed to their cars.