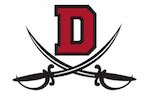 The Dawson Community College basketball teams tip off their season on Friday in New Town, North Dakota. The Mon-Dak Conference Tournament is being hosted at 4 Bears Casino over the weekend. All eight women's teams and all eight men's team from the conference are competing in a traditional tournament style, starting with the quarterfinals on Thursday and Friday and continuing with the semifinals on Saturday and the championship on Sunday. Each team is guaranteed three games. The quarterfinal games and all of the winner's bracket games will be at the casino arena. The loser's bracket games will be at New Town High School on Saturday and Sunday.
The Bucs finished in 2nd place last year so they are seeded 2nd and will face Dakota College Bottineau in the first round at 4:00 pm CST on Friday. On Saturday, they will play either Lake Region State College or Williston State College. The Lady Bucs finished last year tied for 2nd but because of tiebreakers will be seeded 4th and will matchup with United Tribes in the first round. In their second game they will play either defending champs North Dakota State College of Science or Miles Community College on Saturday.
The Mon-Dak Conference hosted an early season tournament for many years, but stopped several years ago. This year the tournament is returning once again! DCC Men's Coach Joe Peterson is excited about the tournament, "I think it's a great idea that fans and four-year coaches will greatly appreciate because it gives them the opportunity to see their teams play on three consecutive days. As players and coaches, we will enjoy getting to see all of the teams and find out where we stack up at this point of the season. It will also bring us together more as a conference." Women's Coach Romeo Lagmay continued with excitement adding, "It is wonderful that our conference is self-promoting its rich history and tradition. The atmosphere should be a lively one with all teams showcasing in one location."
If you can't make it to New Town this weekend, the games will all be live-streamed. All of the games from the arena will be shown on Lake Region's website at https://portal.stretchinternet.com/lrsc/ The games from New Town High School will be on the Dawson website at http://dawsonbucs.com/listen_watch/index.
The Bucs and Lady Bucs host their home opener the following weekend against Northwest College and Sheridan College on November 9 and 10.